Guildford Arts Exhibition: Brilliant Trees
13 July 2021 @ 9:30 am

-

30 July 2021 @ 5:00 pm

BST
---
Overview
John Darnell & Susanna Harris Hughes
Guildford Arts are presenting the work of two local artists: John Darnell and Susanna Harris Hughes
John Darnell
John began working life in commercial photography when it was 'film' & monochrome'. Then in 1963 he moved into television (also black & white in those days!). He spent over 40 years as a cameraman then director of programmes such as: Coronation Street, Casualty, Emmerdale and many others.
Photography has always remained a major interest and now he has returned to that way of making pictures. Mainly using digital cameras John also prints and frames his own work.
See more at: www.johndimages.com
Susanna Harris Hughes, Woodcut Artist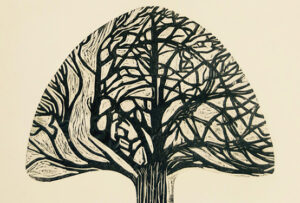 Trees are an important part of Susanna's visual iconography.   They symbolise the cycle of life and death.
The skeletons of deciduous winter trees bring a new promise of life in the spring as they burst into leaf which then develop to maturity during the summer before being shed again in the autumn.  At every stage in the trees' cycle there is a beauty that she hopes that her woodcuts and drawings capture.
Find more of her work at: www.susannaharrishughes.com
Tags
Restaurant
V Café at The Guildford Institute provides a friendly catering service using high quality, fresh, vegetarian and vegan ingredients.

Gift Memberships
The perfect way to give a treat to someone special who takes real pleasure in learning new things and taking part in great activities.