Guildford Arts Exhibition: Diana Pollock & Jim Tucker
23 November 2021 @ 9:30 am

-

21 December 2021 @ 5:00 pm

GMT
Go to all Exhibitions
---
Overview
The Guildford Institute are pleased to welcome two talented artists from Guildford Arts
Diana Pollock
Diana Pollock is a still life artist who studied Fine Art at Canterbury College of Art during the 1980s. She then moved to London and continued her interest in painting concepts and issues related to the domestic.
Her preferred medium recently has been pastels, building up layers to create sometimes, unexpected effects. She has developed a keen interest in the relationship with still life and the artist, believing that the interpretation of the subject matter is often consciously or not, autobiographical.
She has exhibited in many sole and collaboratory exhibitions in London and the South East.
Find out more at https://dianapollockart.wordpress.com/
Jim Tucker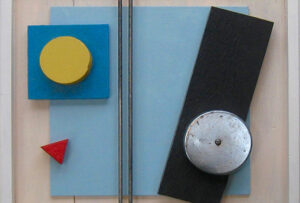 Jim Tucker trained at Reigate School of Art & Design and worked for some years as a designer, including work with Guildford Design Studios and Ray Tuff Greetings Cards. He also worked as an Art Therapist at Netherne Psychiatric Unit before (for the last thirty odd years) becoming a full-time artist.
Jim's work has developed from an interest in the aesthetic of urban and natural decay. While working with patients at the psychiatric unit, he discovered the potential of found objects as a medium for his own self-expression. The materials he uses are largely collected from beaches, skips and building sites etc. His work is non-representational and is concerned with displaying colour relationships and surface quality, letting the materials speak for themselves. It has been described as an art form midway between painting and sculpture, in which the tensions between the sensuous and the austere, is of paramount importance to the successful resolution of the piece.
Recent exhibitions include the Quay Art Centre, Newport, Isle of Wight, Trinity Art Centre, Tunbridge Wells, Reigate Art School and the Yvonne Arnaud Theatre, Mill Studio.
See more at www.jim-tucker.com
Tags
Restaurant
V Café at The Guildford Institute provides a friendly catering service using high quality, fresh, vegetarian and vegan ingredients.

Gift Memberships
The perfect way to give a treat to someone special who takes real pleasure in learning new things and taking part in great activities.