Guildford Arts Exhibition: Multimedia and Print
24 May 2022 @ 9:30 am

-

20 June 2022 @ 5:30 pm

BST
---
Overview
Guildford Institute and Guildford Arts are proud to present the work of their next local artists exhibition by:
Alison Hunt: Mixed Media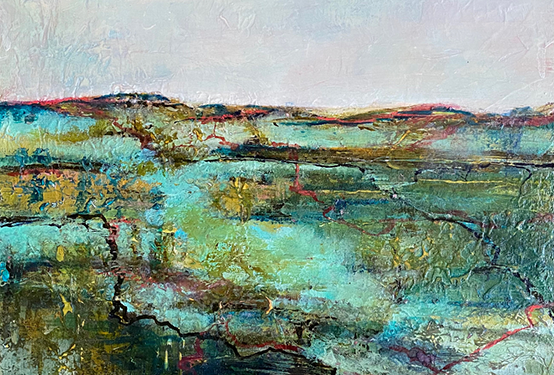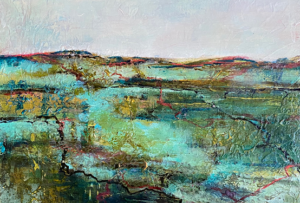 Alison's paintings are a response to the natural landscape. When planning a new painting, the elements she takes for her inspiration are shape, form and colour. She records the landscape on her daily walks and journeys and use photographs and sketches to piece together a new idea. Her paintings are not necessarily of a particular location but relate to multiple images and feelings she gains when immersed in the landscape.
Colours and how they contrast and compete with each other play great importance in her work – using tones that are not of the landscape brings a different perspective to her work, the final result taking on a more abstract quality.
She is a self-taught artist working in acrylic and mixed media – she loves the flexibility that this gives her and enjoys trying new techniques to bring a different dimension to her work. Her best results sometimes come from accidents with the paint.
From an early age, she has always created and her previous job in the fashion industry has given her a love of colour, texture and form.  She is fortunate to work from her garden studio on the Surrey/Hampshire border.
Find out more at:
https://www.instagram.com/alisonhuntstudio/
Ruth Barratt-Danes: Printmaker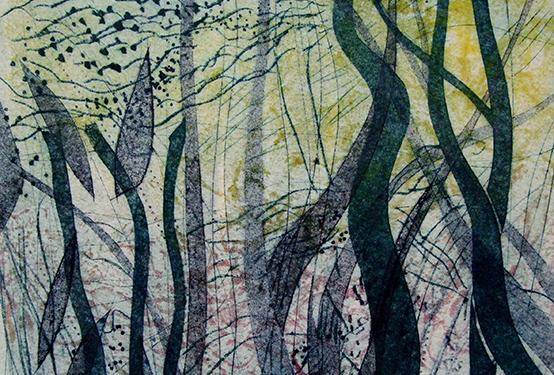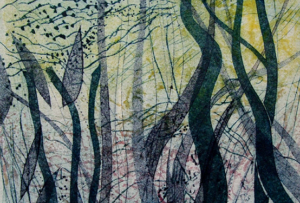 Ruth is both a ceramist and printmaker and her prints reflect the development of a visual language that has been synthesised from her past ceramic work.
Her early years spent in Devon exploring the sinister and brooding Dartmoor and later the Welsh landscape around the Black Mountains encouraged a love of nature and observation of all things wild and strange. Now living in Hampshire, the landscape is providing new challenges and responses. The prints are an atmospheric response to daily walks through the landscape and lay down a catalyst for the next series of works.
She uses a variety of materials and processes in each project, the subject matter determining the specific selection, whether it is Collagraph, Drypoint or Screen Printing and Lino Cuts. Her editions are small and variable due to the process which means each print is unique.
Find out more at:
Tags
Restaurant
V Café at The Guildford Institute provides a friendly catering service using high quality, fresh, vegetarian and vegan ingredients.

Gift Memberships
The perfect way to give a treat to someone special who takes real pleasure in learning new things and taking part in great activities.