Guildford Arts Exhibition: Paint & Print
11 September 2023 @ 9:00 am

-

13 October 2023 @ 5:00 pm

BST
---
Overview
Julie Verity and Vicky Oldfield
The Guildford Institute and Guildford Arts are pleased to present their next exhibition from talented local artists painter Julie Verity and printmaker Vicky Oldfield.
JULIE VERITY – PAINTER
Julie paints from nature. Landscapes, gardens and botany provide the shapes, lines, colours and textures she likes most.  She explore techniques to find the medium, surface, colour and style that best tell the story of what she sees and can imagine from what she sees. After five years exploration, Julie is still working-out how to paint something that is even marginally as pleasing as Nature itself!
M: 07855 754759
VICKY OLDFIELD – PRINTMAKER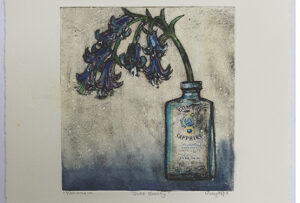 Vicky is an artist and printmaker who likes to find beauty in the everyday – some weeds on a roadside, or a cluttered windowsill can set off a new collection.  She treasures both the eccentric and the ordinary, inspired by collections of found objects and natural forms; she is fascinated with the structure and design found in flowers and plants, often redrawing the same plant many times over to explore the subtle variations in its form.
She has exhibited at The Royal Academy Summer Exhibition, The Mall galleries, Bankside Gallery and shows work in many galleries across the UK and abroad. She was elected a full member of the Royal Society of British Artists in 2021.  She is a published author of 'Mixed Media Collagraph Prints' by the Crowood Press
M: 07931758028
Tags
Restaurant
V Café at The Guildford Institute provides a friendly catering service using high quality, fresh, vegetarian and vegan ingredients.

Gift Memberships
The perfect way to give a treat to someone special who takes real pleasure in learning new things and taking part in great activities.