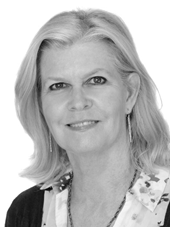 Welcome to our new Chairperson of the Board of Trustees, Janet Crowe.
On Thursday 5th September 2019, Janet took over from her predecessor Sandra Robinson to become the Institute's new Chairperson. We would like to thank Sandra for her hard work over the last five years as a Trustee, and particularly over the last three years in her role as Chairperson. Sandra has dedicated an enormous amount of time and effort to the charity and its work and she has been a fantastic leader to the Trustee and Staff team. During Sandra's time as Chairperson, the Institute has significantly increased its focus on the Strategic Plan, in developing the programme of activities and the marketing of the GI offer. Sandra has also dramatically developed the Institute's internal procedures relating to Governance and Staffing. The Trustees and Staff at the Institute are delighted that Sandra will remain a Trustee after stepping down from her current position as Chairperson.
To provide some information about our new Chairperson, on returning from Greece where she lived for 10 years after leaving university, Janet started her long career within the criminal justice system working at local, regional and national levels. She studied for an MSc in Criminal Justice and is trained in restorative practices as well as being a trained mediator. She has a wide experience of charity management, governance, strategic planning, national and local delivery of services, policy development and partnership working.
Janet was co-opted to the Board of Trustees in June of last year and has been the Board's Vice-Chair since taking on that position in November. During her time in this role, Janet has supported Sandra a great deal with governance, policy and procedures and core organisational matters. At the Institute, Janet is particularly interested in continuing to develop the Institute and working with other Trustees to ensure the continued viability of the organisation. As Chair she hopes to build on the work of Sandra, previous Chairs and Boards to ensure that the Institute goes from strength to strength and is recognised as a centre of excellence in the heart of Guildford.
Her favourite thing about working with the Institute is being a part of a great team of Staff and Volunteers in a wonderful historical place of learning.
Learn more about Janet and our team of Trustees here.
---