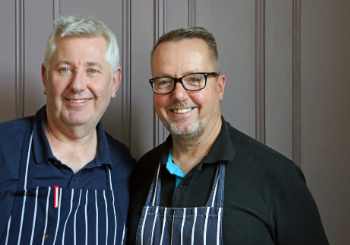 V Café chefs Nick and Ian, share their quick and tasty vegan tagine recipe. The authentic Moroccan flavours will transport you to the warm streets of Marrakech.
Prep/Cooking Time: 30 minutes Serves: 4
Ingredients: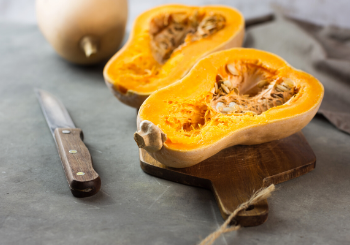 1 whole butternut squash, peeled and diced (remove seeds)
1 large onion (sliced)
1 tbsp smoked paprika
2 tsp ground coriander
2 tsp ground cumin
3 cloves garlic (chopped)
200ml vegetable oil
1 tbsp fresh mint (chopped)
200g dried apricots (diced)
50g preserved lemon (optional) or lemon zest
Method:
1 – Heat oil and fry off the squash in stages.
2 – Remove the squash and fry off onions and garlic. Caramelise until golden. Return the squash to the pan.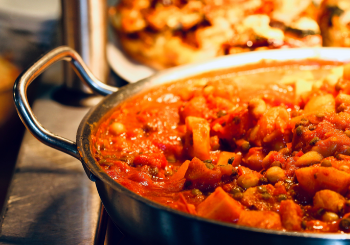 3 – Add all the dried spices and mix well.
4 – Add water to cover the tagine, bring to the boil and simmer until the squash is tender.
5 – Add in the apricots, fresh mint and check seasoning.
6 – If slightly wet, mix in cornflour to thicken.
7 – Serve with couscous or rice and toasted almonds.
We love to see your culinary creations, so if you do have a go at making our vegan tagine recipe, remember to take some photos and tag us @vcafeguildford on Instagram!
Don't forget to have a look at our previous recipe blogs to tantalise your tastebuds! There's our devilishly decadent vegan chocolate cake, which is perfect to pair with a cup of tea and the V Café vegetable fritters will help you towards your 5 a day.
---