Hi
I always think that the title 'Trustee' sounds rather strange and maybe off putting? A bit too formal?
The way I think of it, it simply means that you are someone who can be trusted to put the values and aims of the charity or organisation first. So every decision that a group of Trustees make has that in common. And it certainly doesn't mean that the Trustees always agree with each other!
One of the things I enjoy is that you do get to use your brain as well as your professional experiences and also life skills. You have to try to articulate what you think is important without waffling on and on and driving your fellow Trustees to distraction. It's often not about your own preferences but about what would be best for the charity.
So, since becoming a Trustee at the Guildford Institute I have been a part of the decision making that tries to drive the Institute forward; we need to be both mindful of the rich historical legacy of the Institute as well as the rapidly changing needs and preferences of the people who come into the Institute building. So, for example, we might be planning how best to tackle dampness in the walls- inevitable in a venerable Grade II listed building, and in the same meeting thinking about the new technologies such as Apps and blogging that are becoming part of everyday life in the 21st century.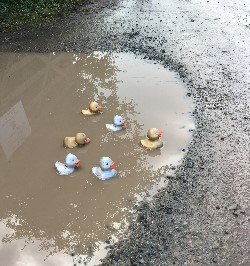 The picture I'm including with this blog is, hopefully, a bit of a double pun; I like the phrase 'getting all your ducks in a row' and also I've always appreciated the image of swans floating serenely by whilst frantically paddling under the water! Both relate to the role of Trustee; I'll leave you to decide which applies, when! I took the snap at the Hay Festival in 2018, when I spotted that a car park attendant with a good sense of humour had floated these plastic ducks on the rapidly growing puddle outside his booth.
Sue Yearley
Learn more about Sue and our team of Trustees here.
---