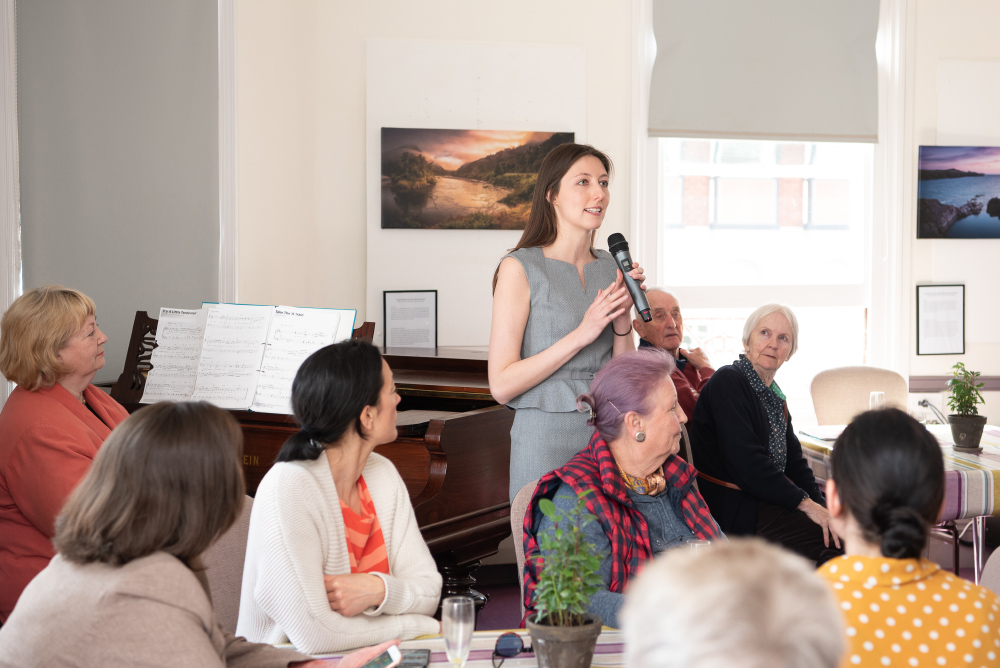 Overseen by dedicated trustees, managed by an enthusiastic team and helped by wonderful volunteers, we ensure that Members and visitors have access to a variety of courses, talks, activities and resources. Discover more about The Guildford Institute below.
About us
For over 170 years, The Guildford Institute has been working for and with the local community. We have been based in our beautiful Grade II listed building since 1891. The building originally opened in 1880 as the Royal Arms Coffee Tavern and Temperance Hotel.
Our mission is to provide an educational, cultural and social community hub in the heart of Guildford offering a special place for people of all backgrounds to meet, learn and explore. We focus on bringing the best quality tutors, clubs, exhibitions, recitals and opportunities to local people and making our extensive resources fully available to everyone.

If you have not yet found us in our lovely building, we are always pleased to welcome new visitors. Why not drop in to our vegetarian and vegan restaurant and browse in our Reception and Library. There is something here for everyone.
Mike Adams, Former Chairperson

Trustee Enquiry
Would you like to make a difference in your local community? We are actively seeking volunteers to join our small, friendly Board of Trustees. We are looking for people with a variety of skills and a real enthusiasm to work for the Institute. If you are interested in hearing more, please contact us using the form below, or email any questions through to the Institute Manager via lisa@guildford-institute.org.uk. We would be delighted to hear from you!
Annual Reports
You can access the latest Annual Report, Minutes of the AGM and our Strategic Plan by clicking on the links below: