View our Autumn Brochure
Our new autumn brochure is out! Browse events through our digital brochure to the right, which includes links to each of our courses, making it easier for you to book. Alternatively, you can browse the autumn term 2021 on our What's On page.
Coronavirus Update
The Guildford Institute building is open Monday to Friday, 9.00am – 5pm, with some evening and weekend services available. Our staff team are excited to welcome you!
View our programme to discover the range of activities we have on offer this autumn, both online and in person.
Room hire is available. Our recently refreshed rooms can be adapted for any occasion! Find out more about our historic rooms available to hire. If you are interested in evening or weekend room hire, please enquire with us directly.
V Café is open Wednesday to Friday, 9.30am – 3pm. Chefs Nick and Ian would love to see you pop in for a coffee or delicious vegetarian lunch. If possible, we encourage you to book a table ahead of your visit.
Our Library & Archive is open Wednesday to Friday. Whether you're looking to browse, borrow or research, our volunteers will be happy to assist. Please visit our Library page for full opening hours.
We would like to thank you all for your support and understanding during this time. Our members, course attendees, volunteers and visitors to the building are, and always will be, at the centre of everything we do.
If you have any queries, please email info@guildford-institute.org.uk, call 01483 562142 or pop in to Reception.
About Us
Since 1834 The Guildford Institute has been working for and with the local community. Today our enthusiastic Board of Trustees and staff team work alongside a dedicated group of volunteers to ensure the Institute continues to make a difference.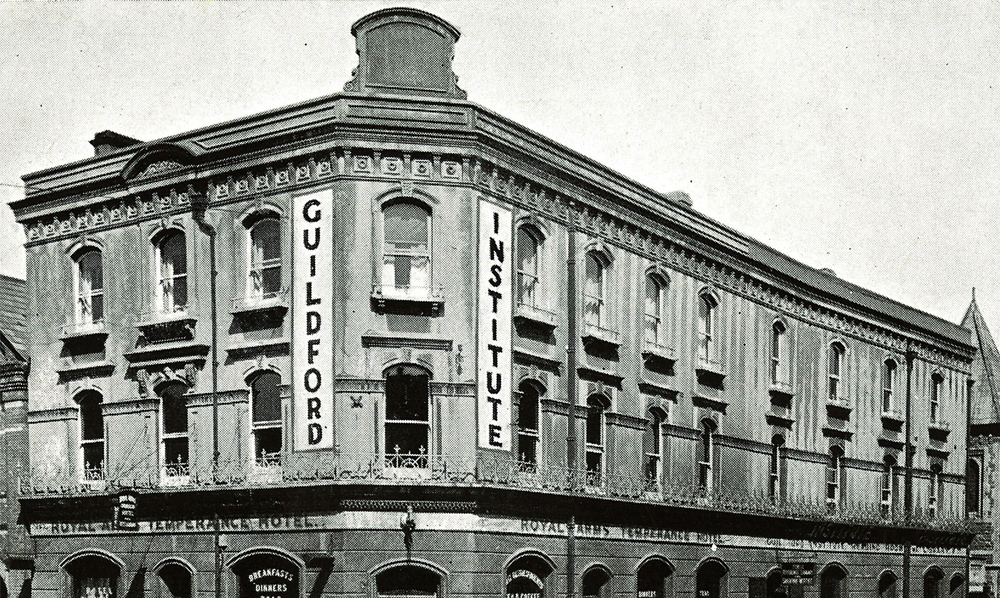 Restaurant
V Café provides a friendly catering service using high quality, fresh, vegetarian and vegan ingredients.


Room Hire
Competitive room hire available within our centrally-located Grade II listed building.



Your Guildford Institute
Download our simple Zoom Instructions
Visit the
Library &
Archive